Somerville Journal Article on Dr. Moir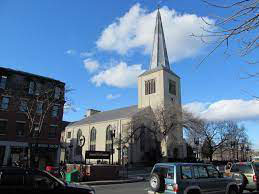 "11th Hour Calling" – Ring Out and Stand Up for Climate Justice
Church bells are rung to raise the alarm for local communities. The recent "code red" report from the Intergovernmental Panel on Climate Change (IPCC) is an alarm call for us all. We'll ring, clang, drum, and trumpet for eleven minutes on the eleventh day of each month as a symbol of warning.
Now is the eleventh hour for action. It is also a time of hope and opportunity to tread more gently, emit less greenhouse gasses, draw down and store more greenhouse gasses, restore our water cycles, and care more for those already adversely affected by climate change, especially in the economically poorest neighborhoods.
For Massachusetts we want Beacon Hill to pass the 100% Clean Energy Act, and the governor to require 50% of climate spending directly benefit environmental justice communities; undertake restructuring to reform utilities & modernize the grid; and to maximize the economic benefits with increase funding of the Massachusetts Clean Energy Council.
Strike the Bell. Sound the alarm. Join with First Parish Church, Old Cambridge Baptist Church, First Church, and others who care about the climate emergency, environmental justice, and municipal/state planning. For more information, to stand and be heard, and to spread the word, please contact Rob Moir at rob@oceanriver.org
Friday, February 11, 2022, 6-6:30 p.m.
First Parish Church, front steps
1446 Massachusetts Ave, Cambridge
Old Cambridge Baptist Church
1151 Massachusetts Ave, Cambridge
First Church in Cambridge
11 Garden St, Cambridge
Of mousy and elephantine cycles:
Read Article
Class Syllabus for Harvard T.H.Chan School of Health Remember the Right Whale Commonwealth Magazine:
Read Article
Melting Greenland Ice Sheet 7 Seas Magazine:
Read Article
30 percent preserved or restored by 2030, Salem News:
Read Article
Peabody Peak Capacity Generator, Salem News:
Read Article
Pogie deaths, a Mystic River mystery, Boston Herald:
Read Article
Enlisting local efforts to combat a global environmental crisis, Greenfield Recorder:
Read Article
Natural lawn care helps reduce carbon in the air, The Eagle-Tribune:
Read Article
Green neighborhoods, cool commonwealth, Salem News:
Read Article
Sailing out of Cotuit Bay into the brown waters of Nantucket Sound
We can act to turn Nantucket Sound waters from brown to blue. Rob describes sailing out of Cotuit Bay in a Herreshoff 12 with tanbark sails, gaff-rigged with club-footed jib. With his son, they are disturbed by what they find six miles offshore. He asks for your assistance in turning the waters back from slimy brown to a cleaner blues. Join with us for the voyage out at
www.oceanriver.org
​
Slime Crime Report Standing in Florida Lagoon
Rob Moir explains why Cotuit Bay oysters may be the best.

Florida's fertilizer state bill, bad for wildlife and extra expense for lawn owners, died yesterday.
February 9th, 2012: Florida Independent recognized the Ocean River Institute writing to key legislators and quotes Rob Moir, PhD.
"Setting fertilizing bans is an important right of local government," he writes. "Let them declare lawn fertilizer vacations during the hot summer months when rains are heaviest. Local government should set the summer dates for when their people need not waste their time and resources to apply fertilizers. People should be permitted to take a break from applying fertilizers when it is doing the most harm to the environment and the least good for their lawns."
According to a letter sent by Ocean River Institute President Rob Moir, the bill would "strip counties of their rights to responsible environmental stewardship" and would prove "a major setback for county governments that have enacted ordinances to reduce summer stormwater runoff of nitrogen and phosphorus into waterways."
So why go to so much trouble to oppose a bill that has already been killed by the Senate? According to Moir, the Ocean River Institute sent it so that "when a new bill is introduced next year, decision-makers will better understand the risks of siding with industrial lobbyists instead of the people when it comes to fertilizing, nitrogen pollution, and green lawns."
Rob Moir is now working with other counties in Florida for people to have green lawns, a fertilizing summer vacation and help restore clean waters. Rob is beginning work with municipalities on Cape Cod MA where the shallow waters of Nantucket Sound are suffering from slime and in need of responsible stewardship. For the latest updates log onto

www.oceanriver.org, subscribe to free eAlerts, and download selected episodes of Moir's Environmental Dialogues, Ocean River Shields of Achilles internet talk radio.
In closing his letter, Moir asks that the state reps "put a stop to big government messing with local stewardship." The letter was sent along with the personal comments of more than 1,500 concerned individuals.
WPBF Video: Rob and Others Rally in Stuart Florida Stop HB421
​
Video: Rob is interviewed about the green slime that choked Florida, Cleaner water and green lawns.
​

In the epic drama of local governments there are ordinary people who accomplish extraordinary acts of environmental justice that move us incrementally to nothing less than saving the world, a bluer and greener planet Earth.
November 6th, 2011: Blue Green Heroes Recognition Reception hosted by President Jackie Jenkins-Scott at Wheelcock College. Featured guests included Rob Moir, ORI and Erik Balsbaugh, MEVEF.
January 24th, 2012: Blue Green Heroes Reception recognizes Patrick Hayes, Martin County Commissioner, leader of the unanimous approval of the toughest lawn fertilizer ordinance in Florida for both green lawns and cleaner coastal waters.
​
Dr. Rob Moir Celebrated for his Endorsement of Environmental Stewardship and Preservation
For nearly four decades, Dr. Moir has demonstrated an unyielding commitment to protecting the environment
​
CAMBRIDGE, MA,
August 1, 2011
, Rob Moir, PhD, President and Executive Director of the
Ocean River Institute
, has been recognized by Cambridge Who's Who for showing dedication, leadership and excellence in environmental stewardship and conservation. (
More Click Here
)
Martin County's new fertilizer rule cracks down on nitrogen, phosphorus
July 27th, 2011
by TCPalm.com
By George Andreassi
STUART — Martin County homeowners are banned from applying fertilizers with nitrogen or phosphorus to their lawns from June 1 through Sept. 30 under an ordinance adopted Tuesday by the County Commission.
Moir's Environmental Dialogues, Ocean River Shields of Achilles
With the knowledge of Carson and the courage of Achilles, individuals are steadfastly going the distance to defend wildlife and ecosystems from assaults of environmental degradations and destructions. Join environmental studies scientist
Dr. Rob Moir
for lively dialogue and revealing narrative inquiry into how individuals are overcoming the obstacles turning forlorn hope into effective actions for oceans, rivers, watersheds, wildlife and ecosystems. Discover how listening to individuals, thinking locally, and acting in concert with others, you can act to save ecosystems. Act to bring about a greener and blue Planet Earth. Moir's Environmental Dialogues is broadcast live 2nd and 4th Wednesdays at 9 AM Pacific Time on The Green Talk Network. Choose from over 50 episodes. For free iTunes podcasts search "
Moir's
."