Rob Moir, PhD is Passionate about Reaching People on Local and National Levels to Help Save the Environment
Join The Ocean River Institute in its ongoing initiative to clean rivers and save oceans.


​
To find out more information To find more information on causes and opportunities to heal the planet, please visit the Ocean River Institute. 
Dr. Moir's achievements were recently highlighted in the Wall Street Journal, Please Click Here to View.
​Dr. Rob Moir is the President and Executive Director of the 
Ocean River Institute
, a 501(c)(3) nonprofit organization dedicated to helping people and groups make a difference where they live and work through environmental stewardship and science. The Ocean River Institute's mission is to foster personal involvement in conservation, environmental monitoring, and protecting ecosystems by facilitating the grassroots efforts of groups working at local and regional levels. In his capacity, Dr. Moir supports the initiatives of the organization by coordinating with local groups to help save the environment and maintaining a network of O.R.I. partners and connecting them with resources and services to maximize their impact.
​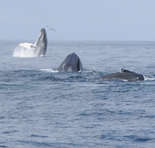 In his efforts with O.R.I., Dr. Moir intends to engage citizens and families as eco-stewards to create clean and healthy environments, and attain a better quality of life for humans and wildlife. Because he envisions an increased responsible stewardship of natural resources, including oceans, rivers and watersheds, by the government, he works to build and solidify relationships with members of the local and national government to gain support in the goals of the organization to provide environmental monitoring, survey and assessment, collaborative ecosystem-based management, and bioregional planning and management. His endeavors have helped champion environmental and ecological quality on a national level, as President Barack Obama signed an executive order establishing a national policy for the stewardship of the ocean, coasts and Great Lakes on July 19, 2010.
​
---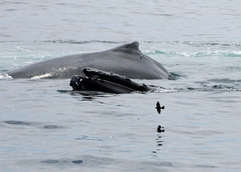 Dr. Moir has illustrated a clear vision of the advantages that address environmental issues on a broad scale in his initiatives with O.R.I. The organization acted as the fiscal agent for the newly formed Virgin Islands Environmental Council and helped them engage thousands of people from around the world in efforts to protect the islands' fragile ecosystem. They have worked with the Massachusetts Audobon Society, Conservation Law Foundation, and Ocean Conservancy, and raised public awareness of the need for comprehensive ocean management in Massachusetts. This effort led to the passage of the Massachusetts Ocean Act. Under his direction, in 2007, O.R.I. assisted Alternatives for Community and Environment (ACE) youth organizers in Boston with planning and carrying out their Diesel DeTox campaign for cleaner air in their neighborhoods. Dr. Moir continues to strive for excellence in his every endeavor with the organization that seeks to strengthen community involvement in conservation, environmental monitoring and protecting ecosystems.


---
Fathom the science and ethics of oceans
at Clam Chowdah Blog – where the clams are sweet, dialogues memorable, and the content fulfilling.     
 (OYSTER CRACKERS OPTIONAL)
View Environmental Videos 
with Rob Moir and the Ocean River Institute saving oceans, rivers and watersheds.
Listen in or iTune Moir's Environmental Dialogues, Ocean River Shields of Achilles Internet Talk Radio. 
CHOOSE FROM 100'S OF CONVERSATIONS THE ONES OF MOST INTEREST TO YOU.
Catch up on the latest happenings at the Ocean River Institute with Rob's Blog postings.
View Environmental Videos with Rob Moir and the Ocean River Institute saving oceans, rivers and watersheds.